Everyone is happy with our UNIQUE refer a friend scheme!
Earn £100 for each and every friend you refer!
Earn £1000 if you refer 5 friends!
Not only that, EVERY friend who you refer earns £100!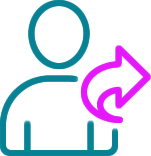 In order to qualify for the scheme, the referrer must be an existing or former client of Cogent.
In order for a referral fee to be paid, the recommended client must have become a client of Cogent and paid fees for a minimum of 2 months.
The scheme will not apply in respect of any recommended person who was a client of Cogent* at any time during the 24 months period prior to the referral.
Only one referrer will be paid for each recommended client.
The referrer will receive £100 for each of the initial four referrals with a further £600 for referring a fifth client to Cogent within a six month period.
This offer cannot be used in conjunction with any other promotional offer.
All rights reserved.
*Or any associated company