A number of our Cogent team took time out from the office on Tuesday 9th July to visit the House of Commons and meet with their local MPs.
They had come to Westminster to join with dozens of freelance contractors on a Lobby Day for the STOP THE OFF-PAYROLL TAX Campaign ably organised by Contractor Calculator, a leading contractor website.
The new IR35 Off Payroll legislation is due to come into play in April 2020 and with draft legislation published by the Treasury on 11th July, it looks likely that there will be no change.
We and many industry commentators feel that MPs are not being given correct information by the Treasury/HMRC to be able to make a fair evaluation so we strongly support the STOP THE OFF-PAYROLL TAX Campaign. As the famous saying attributed to Edmund Burke says "the only thing necessary for the triumph of evil, is for good men to do nothing".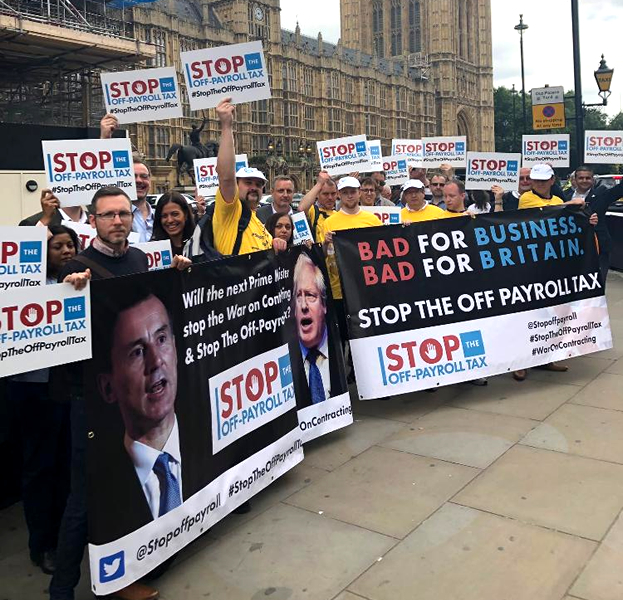 This saying may seem extreme in relation to a tax, but we believe that whilst tax is accepted by all as necessary, a government must make taxation fair and not abuse this power. We were surprised that no other accountants came to Westminster to lobby for their clients' interest. All our team have written to their MPs and encourage all of our clients to do so as well. A template letter to your MP can be found within our June Newswire.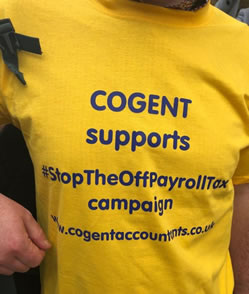 Victor Korman, founder of Cogent, explained why they had come to Westminster: "At first sight, tax is not emotive. However, with this new tax, the Treasury and HMRC are determined to destroy this highly skilled and flexible workforce at a time when the UK can least afford to lose a resource that has helped UK business to be world leaders in IT and Engineering. This is something everyone should care about.
We can see how hasty tax decisions on Doctor's pensions is hurting the NHS by creating longer waiting times for operations and major problems for GP practices. We are asking MPs to use their influence to ensure this is not another example of a hasty tax being brought in for short-term political gain that UK business will regret in the future.
We were very grateful to all the MPs for taking the time to come and see us and we trust that the genuine interest they took in this campaign will be shown in their influence in the Parliamentary process of this tax."